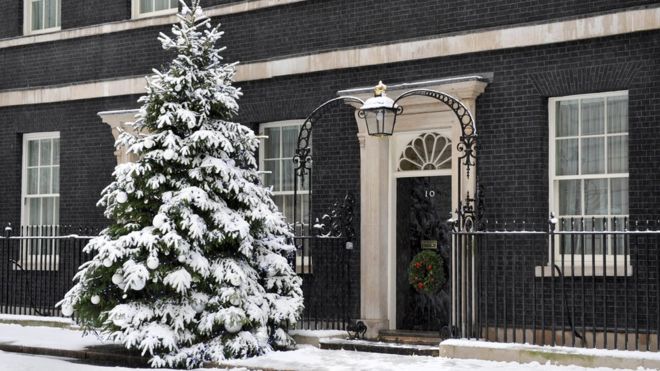 In the UK we've just had a General Election. It's been our third in five years, and possibly one of the most bitterly fought and divisive campaigns of recent decades.
The result has been clear, and many are not happy with it. Many were hoping for something else, many were hoping for a change of government, or at least a change of leadership.
One of our politicians, the Lib Dem Leader Jo Swinson, had this to say as she gave a speech shortly after losing her own seat (and just before resigning as party leader.) "For millions of people in this country, these results will bring dread and dismay, and people are looking for hope."
People are looking for hope.
Maybe people put their hope in our politicians this election campaign, and maybe millions were left disappointed. But Jo was certainly right about one thing. People are looking for hope.
Now the election is over, as a country our attention turns to Christmas. The somewhat incongruous placement of Santa outfits at polling stations or Christmas trees in TV studios throughout election day was a reminder that this election comes before the biggest holiday celebration of the year.
Christmas is a huge deal, and it has been for centuries. Today, for many, Christmas means gathering the family, getting a week off work, and eating and drinking too much. And Christmas is a season of hope. People wish one another good tidings, they speak of festive cheer, and they hope for so much. They hope they'll find time to get the Christmas shopping done, they hope they'll manage to survive the ordeal of the office Christmas party. And perhaps they hope for bigger things. They hope all the family will get on this year. They hope that that elderly or sick relative will be well enough to come. We put a lot of hope into Christmas.
We put a lot of hope in our politicians. We put a lot of hope into our Christmas plans. But it never quite seems to work out.
Politically, millions lost out on their preferred result, and as for Christmas? You never quite get the gift you want, the family always manage to mess something up, and there's so often that inevitable reminder of someone absent who was celebrating along with you last year.
Hope can be awfully disappointing. Because we so often hope in the wrong things.
Politicians can promise hope for a better Britain, Christmas can spark hope for a happy holiday, but there's only one hope that never lets us down.
Hope Has a Name.
True hope has a name. That name is Jesus.
Augustine wrote a short work entitled: The Handbook on Faith, Hope and Love. In it, he alluded to the hope that Christians have, and he argued why that hope was true hope. Augustine spoke of "the hope of future good", a hope that "leads to eternal life." But why was this true hope and how could one hope in it?
Augustine goes on.
For when there is a question as to whether a man is good, one does not ask what he believes, or what he hopes, but what he loves. For the man who loves aright no doubt believes and hopes aright; whereas the man who has not love believes in vain, even though his beliefs are true; and hopes in vain, even though the objects of his hope are a real part of true happiness; unless, indeed, he believes and hopes for this, that he may obtain by prayer the blessing of love.
Augustine, Handbook, 117.
Here, Augustine links hope with love. But not just any love. Loving right. Loving good. And Augustine knows where true love is found: in God.
Dear friends, let us love one another, for love comes from God. Everyone who loves has been born of God and knows God. Whoever does not love does not know God, because God is love.
1 John 4:7-8 (NIV)
We can love and we can be loved, because God is love. Love comes from God, it pours out of His very nature. And love, says Augustine, leads to hope. And the great hope of Christians, in the Early Church and today, is Christ.
Because Christ came to Earth out of love. The love of the Father for a broken and lost people. The love of the Father to bring His children home. The love of the Father to save hopeless people, and to fill them with a lasting hope in Himself.
For God so loved the world, that he gave his one and only Son, that whoever believes in him would not perish, but have eternal life.
John 3:16 (NIV)
God SO loved. That He sent Jesus Christ. He sent His only Son, to live and die in our place. To bear the punishment our sinful lives deserved, and to offer us real and lasting hope. Hope of an eternal life with Him, hope of an eternal love with God's family. Hope of a Father winning back His children for all eternity.
This Christmas, hope is not found in the family we gather round us, or the social faux pas we avoid. Hope is found in a baby, born 2000 years ago. Hope is found in the God of Augustine. Hope is found in Jesus Christ. Sent because God loved so much, that He couldn't bear to leave us hopeless.
Put your hope in that. Put your hope in Him.