In the midst of strange and unsettling times, perhaps you've found yourself with more time to kill, and you're taking stock of options to fill your time. As I aimlessly scrolled through Twitter yesterday afternoon, I noticed that this short book, part of the 9Marks series on building healthy churches, had now been graciously made available as a free e-book. I made my way through it, and wanted to share a few thoughts here.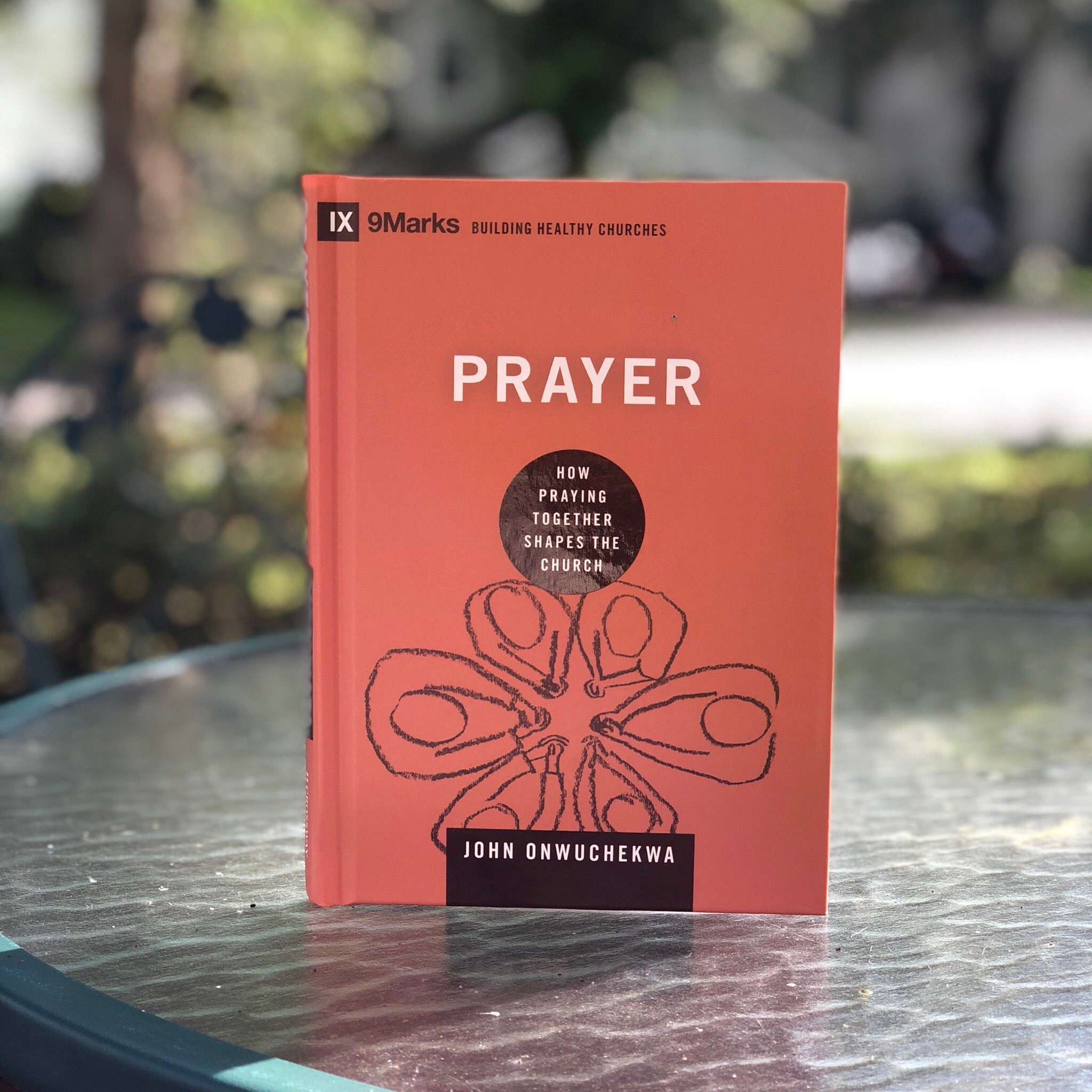 If you're looking for a short read on a crucial topic during these strange days, look no further than this free offering. As we worry about the fragility of the world around us, to be challenged about the reality of prayer is a wonderful joy.
John's book isn't an attempt to provide a definitive study on the privilege of prayer. It's not even an attempt to define prayer for the struggling Christian. Rather, as he makes clear in his introduction (15) his "hope is that this book will be a guide and a springboard that helps you enjoy the amazing gift of prayer we have as a church." In days when our church family may not even be physically meeting, considering the role of prayer in our church life seems a worthwhile exercise.
Because as John astutely identifies (18), in many local churches in both the US and beyond, our problem with prayer is "not a complete lack of prayer, but too little prayer." Too many churches give only a nod to prayer in their gatherings together. We ask humbly for this or that, and the exercise of corporate prayer is over in a minute or two. See you next week.
John's concern is that (18) "our prayers in the church too often feel like prayer before a meal: obligatory and respectable, but no one really gets much out of it." And so in this book, just one in a brilliant series of short books seeking to explore the biblical picture of the local church, John provides an honest and raw account of prayer. This is not a book penned by a learned scholar in his ivory tower, or even by a prayer warrior down on his knees. It is an honest and simple read where John wrestles with his own sinfulness, helpfully sharing personal challenges and obstacles to his own prayer life.
The book largely divides into three parts. Having used the introduction to identify the problem of prayer in our churches (too little!), the book moves to consider briefly just what prayer is for the Christian, before moving to apply that to the life and activity of the local church.
Prayer and the Christian Experience.
"Prayer is oxygen for the Christian. It sustains us. So it follows that prayer must be a source of life for any community of Christians" (23). Prayer is essential for the Christian, and as it sustains the individual believer so it sustains the gathered church. As Christians then, we must begin to foster a culture and habit of prayer. As John explores the lack of prayer in our churches, he considers a lack of prayer in our own lives. Our problem, he writes, is that "prayerlessness is spiritual suicide. So what I'm suggesting is that we pray more" (39). But how do we pray? The reader is walked through Jesus' teaching on the Sermon on the Mount, and a brilliant exposition of the Lord's Prayer, to answer this question.
God's word is so rich and so clear, and as the book walks line by line through the Lord's Prayer, there are simple and clear challenges. The first half of the Lord's Prayer is Godward looking, (49) "the world exists as a canvas for God's glory." I was struck by John's simple challenge. How often am I sleepless, grieved, or distracted from other tasks, by the ways in which God's name is disrespected? If I am honest with myself, how self-centred are my prayers?
As Jesus turns to pray the second half of his prayer, fresh challenges confront the reader. Do we get comfortable fitting our prayer lives around us? Do we really ask for our daily bread, or is it simply the ad hoc or occasional request? Do we wholly depend on God alone, or use him as a backstop in tricky times? Given the current global crisis, such questions are particularly poignant. But more than this, the Lord's Prayer is communal in outlook. We are not asking for simply our own needs, there is a plurality to this prayer. "Give us this day our daily bread," "forgive us as we forgive those who sin against us." And so John cautions, (59) "even when we pray alone, we should have our neighbours in mind. We should be consumed by ways to love them."
Prayer requires our humility, as we put others before ourselves and as we submit to God when we sin, or in the storms of life as they rage around us. John helpfully takes us to Gethsemane. Jesus' prayer in the garden is emotional, the words are raw. And it provides a wonderful model of dependence upon and submission to the Father to whom he prays. (69) "Jesus had taught his disciples how to pray in times of peace. Here [in Gethsemane] he modelled prayer in the midst of suffering. What had been instructed in the classroom was now illustrated in crisis."
Prayer is a wonderful gift for the Christian. It is the means by which we speak with our Father. Where we can be open, honest and raw. It is a means to depend on and submit to our Father. (76) "God strengthened their hands when they surrendered their hearts to do his will. They began to look like their Saviour. They finally understood that the life-changing work of the gospel isn't strengthened in the public eye. Rather, it's strengthened in private before the eyes of God and our family in Christ."
Prayer and the Local Church
Chapters Six to Eight see the book apply these truths to the local church gathering together. With a mix of solid biblical truth (94-95 for example, an exploration of prayer in the Early Church of the book of Acts) and practical advice, John considers the place of prayer in the life of the local church. He unpacks the ACTS model of prayer at length (adoration, confession, thanksgiving, supplication), providing a useful model for the church to use to consider conversations around prayer. Indeed, on this model in particular, the corporate application is clear. As we pray through these four things together we are encouraged to praise God as one body, to confront sin in ourselves as we hear the confessions of others (me too!) and to better love one another as we gather.
Perhaps the most striking direct application of this section was John's encouragement to recover the prayer meeting. It might not be innovative, but we don't need innovation. We need intentionality. (96) "The prayer meeting isn't a place of attraction, but a place of necessity." We may not be attracted to a prayer meeting after a long day at work or a long weekend, but when we understand the vitality of prayer in the life of the church, our perspectives and priorities will shift. Helpfully using the example of his own church family, John challenges us to consider whether we make the right space in both our weeks and our hearts to be gathering to pray together.
As this third section of the book is wrapped up, John turns to consider the relationship between evangelism, missions and prayer. He identifies the anxiety and apathy that can so often fuel both our individual and corporate approaches to evangelism (and adds to this helpful challenges: I was struck by his comment on training. Does constant training for evangelism allow cowards like myself to simply avoid every actually going out on mission?) The remedy, he writes, is prayer. (111) "Prayer is the link in the chain that connects God's sovereignty to our responsibility." Indeed, in corporate prayer for our evangelistic efforts, we give over burdens we were never meant to shoulder to the One who can carry them, (114) "anxiety is replaced with boldness. Apathy is replaced with compassion."
Conclusion
This book was such a helpful check on my own attitude to prayer in my own church family. At a time when it is even harder to gather and pray together, where prayer meetings and the like require the added logistics of video calls and conferencing software, this book provided a great challenge to how I view prayer in my own life, and crucially, in the life of the church. John challenges us with this book: do we cheapen the place of prayer in our church family? Do we enjoy it? Do we really get it? Through considering services, sermons, prayer meetings and outreach (among other things) John shows how prayer relates to the whole life of the church. A life of prayer is an essential joy for Christian exiles in a broken world. (127) "When Christ teaches us to pray, he does so with a fractured world in mind." In Glory, we will stand before our Father and praise Him to His face. But until that day, as we live for him in this broken and troubled world, we must lean on him, praying without ceasing. This short book is a great read for a lonely Christian in a troubled, self-isolating world. If you have a few hours this coming week, have a quick read and be humble as you think of your own contribution to the prayer life of your church.