"The truth is that if you are a Christian, Jesus has changed your life. You have a story and it is meaningful, important, interesting and significant. It has the power to change somebody else's life." (52)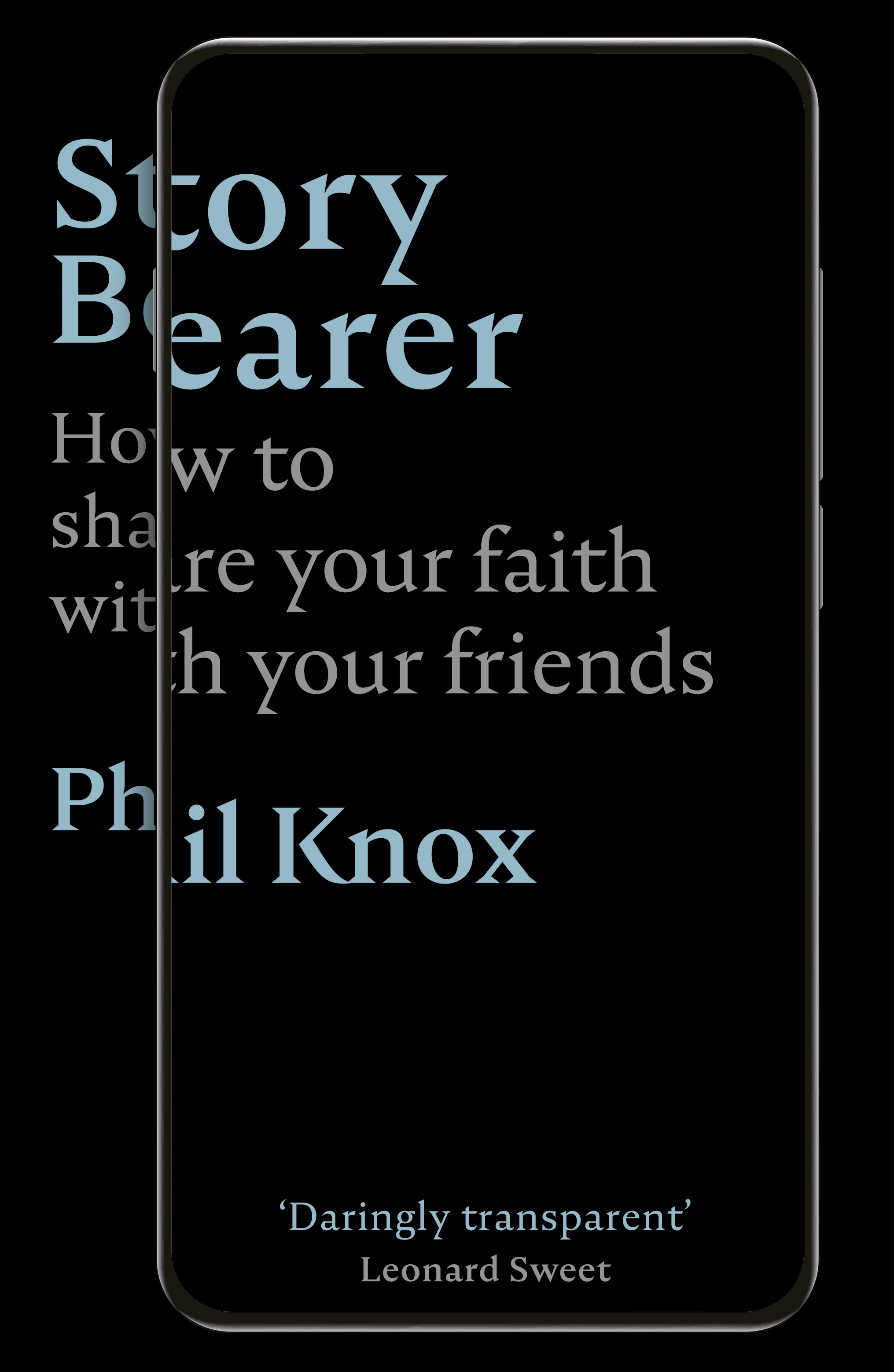 Story Bearer is a book on evangelism. It's a little different to a lot of reads on the subject. And it's brilliant.
Phil Knox's book has a clear message: that everyone has a story, and when we are remade in Christ (3) "our story becomes intertwined with God's story." This idea of storytelling is accessible, enjoyable and universal. Everyone loves a good story, and as Christians, our very lives are part of the greatest story ever told.
This book is incredibly readable. As Phil walks through his case for each believer taking up the name of Story Bearer, he tells his own story, offers brilliant illustrations and narratives, and presents a helpful and open honesty. Story Bearer is neither difficult to read, nor is it a heavy, theological tome. The call of the book is simple: now we are part of God's incredible story, we cannot keep that to ourselves. But Phil makes this call in a challenging and insightful way. Practical advice and exercises frame the book. From short challenges: (6) do we spend good time with non-Christian friends? To detailed frameworks: (46-47) how do I learn and tell my personal story, (106-108) how can I memorise useful verses of Scripture?
The book is simply laid out. After introducing the theme, Phil tells four stories. God's story, your story, your friend's story and the story of culture. 'God's story' is a brilliant and instantly accessible Bible overview. His narrative of Bible history is faithful and clear, broken up by stories and illustrations that open up what can be at times a complex story. All four of Phil's stories help us think about how we can reach our unbelieving friends and family for Christ, but the story of culture is also worth a particular mention. The vast majority of those who read this book will know their story has been shaped by the digital revolution of the last few decades. Phil walks through some key ideas around this narrative, questioning how we can weave both the individualism and relational accessibility of modern day technology and social media together. The Christian, says Phil, has a wonderful answer.
"We can celebrate and communicate the fact that, although there are 7.7 billion people on the earth today, you are unique, fearfully and wonderfully made. But we do not get to define ourselves… To a world searching for an identity, we can share the great news that you can find out who you really are and become who you were created to be by knowing the author of your story." (100)
The story of our culture is that we can choose our own course, setting our highlights up on social media, hiding the bad times, and defining our own selves. But the wonderful story that the Christian can tell, is that we were made for so much more.
Story Bearer finishes as all four stories are pulled together. Concepts such as friendship and prayer are celebrated for their centrality to personal evangelism. Chapter 11 – dedicated to friendship – is a helpful, narrative driven guide to living the Christian life alongside believers. Phil's section in Chapter 12 on prayer is a great reminder that in evangelism we are privileged to play a part, but we do not bring about new life ourselves. God lets us play a role, but He doesn't need us to bring about conversion. With reference to 1 Corinthians 3:6*, Phil urges us to depend on God in our evangelism. (119) "If we think it is all about us, we will not pray in the same way for our friends."
This book offers the reader a challenging and applicable presentation of personal evangelism. Every single person on this planet has a story. Share yours, listen to others, and point towards God's. Whilst some might be concerned that this idea of storytelling is light on clear Gospel truth: Phil has a really helpful way of grounding his thoughts in God's Word on every page. This book is a refreshing reminder that our faith is real and living, not merely an academic pursuit, with the fundamentals of the Gospel at the heart of every believer's story.
To wrap things up: give this a read if you're sold on evangelism, and the idea of stories. And give it a read if you're sceptical about this narrative approach, because I think Story Bearer offers refreshing and direct challenge to our lives of personal evangelism. It's a clear picture, one we can all buy into. It's a book that cuts to what it is to be human. To be relational, communal, to be part of a bigger story.
*"I planted the seed, Apollos watered it, but God has been making it grow." 1 Cor 3:6