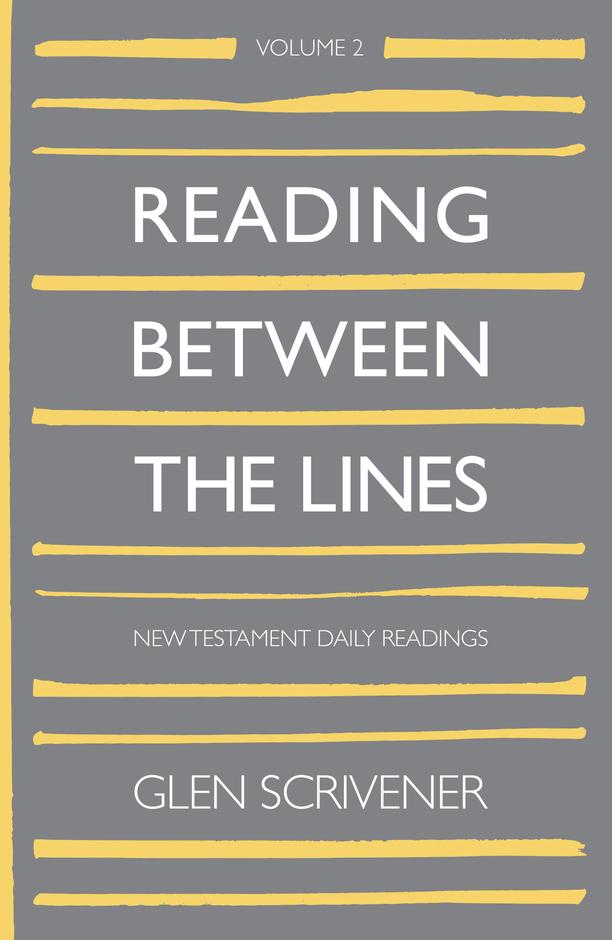 Like all good sequels, there tends to be a gap between the first and the second, a gap some would say was simply too long.
I have, however, finally gotten round to reviewing Volume 2 of Glen Scrivener's excellent devotional: Reading Between the Lines. Find my review below.
This is, once again, a longer version of an original review written for the Scottish Free Church Books.
Volume 2: The New Testament
Perhaps unsurprisingly, given Volume 1 took the reader through the Old Testament, Glen's second book of short devotions takes us through the New. Once again the focus is not on daily applications to specific issues and actions but rather a consistent and helpful pointing to Christ. As Glen works through the New Testament, his time spent dwelling on the Old shines through, and his devotions helpfully weave together a picture of Scripture that points to the absolute centrality of Christ.
This consistent engagement with the whole of Scripture is really helpful for two reasons. The first is that through constantly referencing and linking the Old to the New, Glen both shows how God's Word is wonderfully woven together around the Good News of Christ, whilst pointing away from his own writing and back to Scripture. In his introduction to the work, Glen writes (4) "if you're pressed for time, read Scripture not Scrivener!" In producing devotions rich in Scripture, he helpfully affords us that opportunity.
From a more practical point of view, Glen's constant engagement with both testaments serves to add variety to the structure of the studies and the interaction required. Whilst we know the Word of God is living and active (Heb 4:12), and we can so often enjoy the beauty and awesome truth of it, it's a widely accepted truth that quiet times can be hard. We so often struggle with daily devotions, and Reading Between the Lines does its best to help with that. By varying the structure of different devotions, breaking some down into short sections for example, Glen offers a bit of variety each day. Helpfully, his use of the Old Testament serves to offer the same. Some days require a short passage to be read from both the Old and the New, others offer reflections on passages within the devotion. God's Word is a wonderful thing, and I found these devotions helpful in reminding me of that, even when my heart didn't want to sit and read just then!
The variety with which Glen approaches Scripture is matched only with with his love of pictures. An evangelist by trade, Glen tells short stories, paints quick pictures, and offers helpful anecdotes. Our American friends may struggle with his affinity for cricketing metaphors, but such pictures help the reader thoughtfully engage with passages of Scripture that may seem alien or odd, or that we may think we already know so well.
I enjoyed Volume Two as much as the first, and would encourage those who are struggling in their quiet times, and those who simply want to decide what notes to use next, to give it a go. Each study is short, and wonderfully clear. As I said above, Glen doesn't try to produce a legalistic application for us to implement every day, but rather he seeks to point us back to Jesus. His aim, for me, was wonderfully summed up at the close of a devotion on 2 Corinthians 3. Glen writes (413) "If you want deep and abiding change in the Christian life, don't gaze at yourself. Don't gaze at the law. Don't even gaze at the spirit of the law. Gaze at Christ himself."
Not everyone enjoys Bible reading notes, not everyone will enjoy the style with which Glen writes. But in times such as these, it is so crucial that we are setting aside time on a daily basis to be learning from and resting in our Heavenly Father. So if you do want to start your day by gazing at your Saviour, and you'd value some simple, short devotions to help you do that, then it may well be worth giving Reading Between the Lines a go.