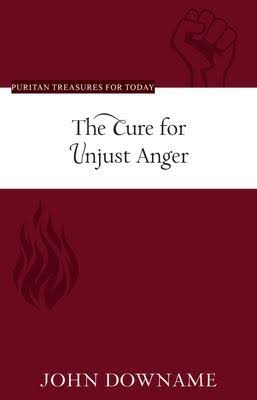 Another book review of a new title available at Free Church Books, this time a new edition of an early Puritan classic from Reformation Heritage Books, one that is certainly a timely publication.
John Downame was clearly a perceptive analyst of the human state, and considers the topic of anger through a measured Biblical and practical approach. Though written nearly four centuries ago, this book cannot be read without the heart being confronted with the depth and depravity of our sin. Brian Hedges, who has edited this edition, has retained many of the marvellous turns of phrase that Downame so ably employs to convey his message.
The Cure for Unjust Anger considers anger in its entirety, both just and unjust. Just anger is the right response to the defamation of God's glory in creation, and it is a good thing. Indeed, Downame holds up Scripture to show that (p8) "anger in its own nature is just and holy." But it is not just anger that overtakes the mind and the heart, it is unjust anger, and it is on this distortion of our emotions that Downame focuses the majority of his book.
Unjust anger leads us away from the things of God, to the selfish interests of our own fallen hearts. Downame diagnoses the problem, considers the causes and highlights the dangers (the 'evil effects') of untreated unjust anger, before mercifully offering the remedy for sin-sick souls. This is a welcome word to sinful hearts, and it is wonderfully written. Every assertion is swiftly backed up by Scripture, and historical examples are drawn from throughout God's Word.
I was struck by the insightful manner in which Downame wrote. A personal challenge arose in his sixth chapter: a worrying characteristic of unjust anger is (p58) "the amount of time it lasts." For "when anger is retained for too long, it becomes hatred." When we have been wronged, we can rightly or wrongly convince ourselves that our anger is justified, but when that wrong has been righted, to hold on to our anger is merely affording the Enemy an opportunity to further poison our hearts towards the other. Sin, as Downame points out, is the ultimate root cause of all anger, so we must strive to put this to death, rather than to feed it or let it fester in our hearts. We, I, must confront the anger we hold on to in our hearts. All this, Downame conveys in a few short paragraphs, for Hedges has edited this edition into very short sections, themselves in small chapters. This makes the wisdom of Downame easily consumable, whilst helping the reader thoughtfully consider each challenge that Downame presents.
Unjust anger, to some extent, is a sin of which we are all guilty. This is a helpful and short book to help us challenge that sin, and to see the hope of healing found in the Gospel. I would encourage you to pick up a copy and dive in. Brian Hedges has edited this version into an incredibly readable volume, with footnotes explaining terms or phrases of a more archaic nature. Though the US spelling may stick out to some(!), this is a fantastic edition with a really helpful message. I am encouraged to see a more little-known Puritan classic reprinted for a modern audience, and would gladly commend it as a short but helpful meditation on the sin of unjust anger.