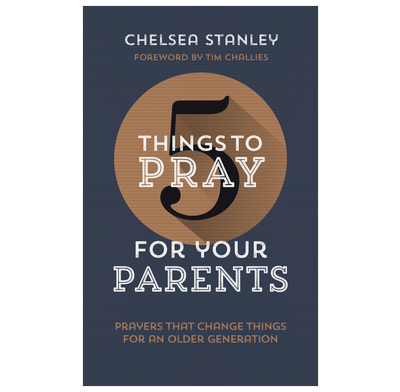 A brief review of a short new prayer guide.
The latest prayer aid in The Good Book Company's '5 Things to Pray' series is on praying for your parents, written by Chelsea Stanley. This short guide offers 21 Scripture-led prayers, each with five different points drawn from a specific passage. Undated and easy to pick up and put down (either daily over a three week period or ad hoc) this will be a useful little resource for many.
Simple and Scriptural
Opening with a series introduction by Tim Challies, and a 'How to use' section by Stanley, the book then takes on a repeated format, with each day's prayer guide based around a short passage of scripture (with the reference printed on the preceding page). Each set of prayer points offers five individual things to pray, centred around a general theme. The first for example, based off of John 3:16-21, gives the reader five things to pray around the theme: 'that God will save my parents.' These themes cover all sorts of areas, from the spiritual and physical conditions of our parents, to work, family and mental health. The guide is a wide-ranging prayer support, with each suggestion grounded in a particular Scripture.
Not Always Applicable / Creativity Required
The natural problem with any generic prayer guide is that each reflection will have bits that do not apply to your own context. Stanley has had to approach each topic with sweeping statements, broad catch-alls of parents who are believers and parents who don't know Christ. This is unavoidable, and Stanley does a good job of including both camps without unhelpfully drawing focus if only one is applicable to you.
It is only natural that some wider reflections won't also apply to all parents. This is again to some extent unavoidable, and some situations (such as in my own parental relationships 'Losing their Memory') won't be relevant for everyone. Stanley recognises this, and the reader is encouraged in the 'How to Use This Guide' section to employ "a little creativity" in approaching and tailoring the guide to personal circumstances and relationships. Though the structure of the book is repetitive, this is not one where the reader is encouraged to be formulaic, but rather to use it how best works for each specific context.
Conclusion
Every prayer support like this will have that generic dimension, and simply on those grounds it may not be everyone's cup of tea. Some may find it easier to pray without the prompts provided by this short book, others might find it leads them to a more structured and deeper prayer life. This kind of prayer aid will not work for everyone, but if you are looking for a help in structuring your prayer life, and you want to think about how better to pray for your parents, Stanley's short book could be for you. With prayers rooted in Scripture, and a simple, accessible format, this is a good addition to this wider series, and a helpful short read to help believers think through how they pray for their parents.
Published in May, 5 Things to Pray For Your Parents is available from the Good Book Company.