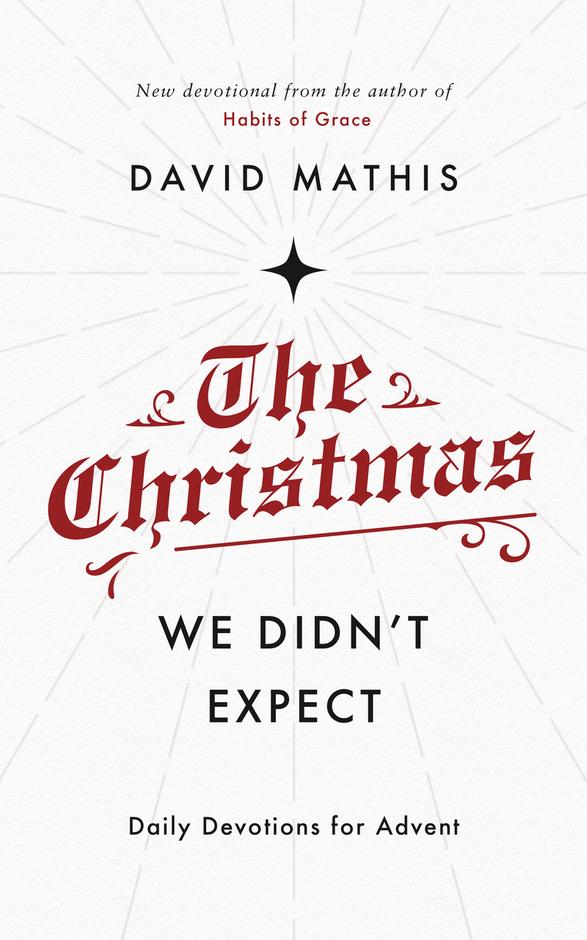 There are plenty of Advent devotionals, and there are many good ones that I could commend to you. David Mathis' new book The Christmas We Didn't Expect offers a set of twenty-four daily reflections on the coming of Christ. It is a fantastic book, and one that this reviewer would highly recommend. In fact, I'm looking forward to picking it back up in a few weeks as my wife and I plan to work through these devotions together this December.
These short Advent devotionals are designed to help us wait rightly for Christmas morning. Taking as our example the likes of the Shepherds and Mary, Mathis encourages us to marvel at God made man. These devotions will help prepare your heart for the day when we most obviously gather around the truth of the incarnation. Advent is a period of waiting: waiting for the day, for the Lord, to arrive. This book helps us to wait well, expectantly and with anticipation, as we long for that day.
Our God Made Man
At the heart of Mathis' book is a desire to cause his reader to wonder at Christ Himself. To that end the studies are simple, yet full of delight in the glorious truth of the incarnation. Mathis sums up his own amazement in his introduction (12-13).
"What God so stunningly reveals at that first Noël is that when he himself finally does come, it is not in cloud or wind or fire or earthquake, or even simply in a still, small voice (1 Kings 19:11-12). But he comes in the fullness of his creation: as human. He comes as one of us and dignifies our own species in doing so."
Christ coming down was the seismic event that all of history had been building towards. It's no exaggeration to say that; indeed it's a painful understatement! It's all too easy to see a truth like the incarnation as an abstract, or academic ideal. Yet to marvel at what it truly means, that God Himself dignified our species by becoming one of us, to save us, is a real joy. The incarnation is the incredible truth at the heart of Christmas and these Advent devotions so helpfully point us to it.
A Helpful Structure and a Heavenly Focus.
Mathis has written a series of gentle studies that simply and humbly bring the reader face to face with the God of the Bible. Each study is followed by a reflective and honest prayer that helps us speak with God in light of what we have read. This book is simply laid out, all to help the reader focus on the glorious God who came down at Christmas.
In his introduction, Mathis calls Christ's birth "humility on mission" (14). God came down, fully God and fully man, to carry out the greatest rescue plan. The first Christmas was no accident, the incarnation was no afterthought. It was God's glorious plan unfolding.
Through the helpful structure of these twenty-four short studies, Mathis helps the reader focus on the divine truth at the heart of Christmas. Our God came down. In a year when Christmas can seem like salvation in and of itself – we're longing for it to bring a bit of normality and stability – Mathis turns our eyes back to Heaven.
Conclusion
These Advent devotionals are winsome and clear, yet full of wonder and delight at the joyful truth of the incarnation. In any year this would be a great book to help you explore God's word in the run-up to Christmas. But perhaps this year this book is even more pertinent. This Christmas will look different, no matter how much we might hope otherwise, and we may find that hard. But whether or not this Christmas is what we hope or expect, in The Christmas We Didn't Expect we are reminded of the single truth that really does make Christmas the most special of days. That God came down to save us, and He did it in the person of Jesus Christ.
---
This review is, once again, a longer version of a review for Free Church Books. You can buy The Christmas We Didn't Expect from 10ofThose or The Good Book Company.