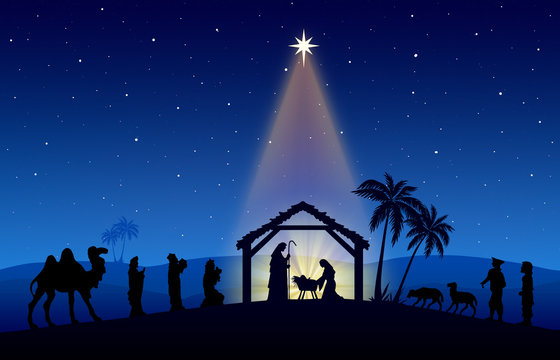 An updated version of this post can be found here.
This Friday is Christmas Day. It might not look anything like we'd expected or hoped, but it is still Christmas. Perhaps you've tuned into the online carol services, brought your presents, and set up your tree. Perhaps you're thrilled at the opportunity to see family, even if only for one day. Or maybe you're miserable at having had your plans cancelled by new restrictions. Either way, we can't deny the fact that Christmas Day is coming. It may not look how we would like it to, but it's coming.
The Early Church celebrated many things together. They ate meals as church families regularly (far more than churches do today), they celebrated the resurrection as the sure foundation of their faith. But for the first three hundred years of Church History, it doesn't seem that they celebrated Christmas.
Indeed, it's only in 356 AD that we find the words "25th Dec, natus Christus in Betleem Judeae." Quite literally, 25th December, Christ is born in Bethlehem, Judea. So for three hundred years, we have no record of the Church or any other Christian group celebrating Christmas. The death of Christ and of notable saints or historic Christian figures received much more attention than their birth, and at Epiphany celebrations on the 6th January the Church was more concerned with reflecting on Christ's baptism than His birth. It seems that Christ's birth was simply not something reflected with a special day of celebration.
Why December 25th?
Quite why we celebrate Christ's birth on the 25th of December then remains a mystery. Some have posited that it super-ceded the Roman festival of the Saturnalia, others suggest that as the Catholic Church began to celebrate Christ's conception on March 25th, his birth naturally falls nine months later.
The former is in many ways compelling, and the 25th of December reflects not only the Roman festival in honour of Saturn but also the Persian festival to Mithra. These major festivals may naturally have become usurped by a growing Christian population in the Roman world, keen to encourage pagans to assimilate to the new religion. Similarly, the latter makes sense too, and aligns with some suggestions from medieval church writers.
Either way, it seems unlikely that Christ was born on the 25th December, and the Bible certainly gives no date or time. Suggestions that Mary conceived in Spring and so would have given birth in December are plausible, but again only speculation as to specific dates. Regardless of why the 25th was picked as the day to celebrate the birth of Jesus Christ, the most important thing to note was that it was. And so each year Christians take time to celebrate this birth of a baby boy to a scared, young couple in Bethlehem, some two thousand years ago.
Why Celebrate at all?
Christians celebrate because this baby is special. When Mary became pregnant, the Lord said to her husband Joseph:
"She will give birth to a Son, and you shall give Him the name Jesus, because He has come to save His people from their sins."
Matthew 1:21 (NIV).
Jesus came to save. Jesus, this baby in a Manger, was born to save men and women across the world and throughout history, from themselves.
Because we all need it. Look at the world around us, look at our own hearts. It's painfully obvious, especially at the moment, that our world is not how it should be. And even amidst the crisis of this pandemic, it's painfully obvious that we are not how we should be. We've seen so many great news stories of selflessness and charity this year, but haven't we seen so many too of selfish actions, pride, arrogance and cruelty? Even in such a troubled time we see to cause even more trouble for ourselves, we make foolish and unkind decisions. Our actions, words and thoughts can be dirty, cruel and selfish. And the Bible says that's wrong. And we know in our hearts that it is.
The Bible also says that this wrongdoing, what the Bible calls sin, is punishable by death. That's why death is the certainty we all face. But on Christmas day two thousand years ago, a baby was born to challenge that. A baby was born to die. When the wise men visited, they brought gifts fit for a king (gold) a god (frankincense) and a corpse (myrrh). Myrrh, an embalming oil for bodies in the tomb. Christ was born to face death. Not in the way we are, as an inevitable end to our lives, but to face it head on.
Christ Jesus came into the world to save sinners, by taking upon His perfect and divine shoulders, the punishment of death our sins deserve. And in its place, He gives us His goodness, His right standing with God, and we walk free. Not just in this life, but for all eternity. The baby in the manger came to bring hope to a world that seems so hopeless.
That's why we celebrate Him. A baby born to die. A King born to save.
Maybe this Christmas you could meet this King for the first time? Look for Hope is a website designed to allow you to explore the claims of the Christian faith. During this strange Christmas at the end of this hard year, if these claims are true, they really are worth exploring.
Find out more at Look For Hope.