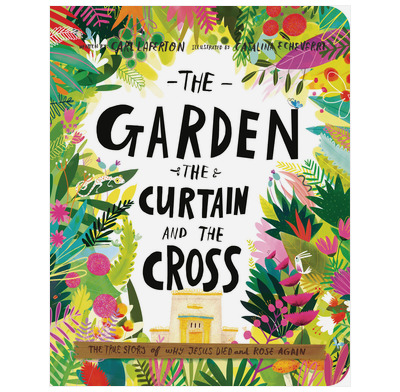 This beautiful little board book is "the true story of why Jesus died and rose again." What a wonderful story to read with young children!
This book is brightly illustrated by Catalina Echeverri, and each page colourfully reflects the step in the Bible's story that Laferton takes us on. From the beauty of Eden, through the Old Testament Temple, to the risen Jesus whose death tore in two the temple curtain, the Gospel is simply explained to the young reader.
The words and pictures combine to tell the Gospel story wonderfully, and each page both clearly sets out bible truth, and invites the little one to ask the reader what is happening in the pictures.
This would be a great book to add to your storytime collection, and I will certainly be reading my copy with my niece as soon as possible!
The Garden, the Curtain and the Cross is available from The Good Book Company from February 1st.
This board book is for young toddlers (aged 2-4). There is already an edition of the book aimed at 3-6 year olds, which is available on the Good Book Company Website.